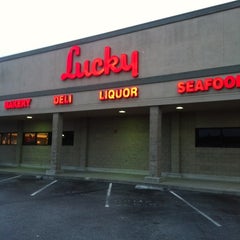 Gone, time gap, waiting for Safeway
"Lucky's closing" by Roberta Giusti
"Editor: I moved to my apartment on Gateway Dr. and Hickey Blvd. two years ago because I don't drive and there was a supermarket and other stores across the street. I just re-signed a two year lease in June and Lucky Supermarket closed in July. I'm left without access to food.
If the 7-11 opened at least there would be food options, but a few people are blocking that now. I am very upset about having no food available to me, with no end in sight. I just sit and look at two empty buildings. I'm my fifties to young for help from senior services. Now I am stuck in here in a ghost town."
----------
Related articles.
Pacifica Tribune/Jane Northrop, 7/16/15,
"Lucky supermarket in Fairmont closing, Safeway coming".
Customer reviews. Yelp, Lucky Supermarket, Fairmont Shopping Center.
Photograph of past Fairmont Lucky market by Carol H. from
Foursquare, 3/11/12.
Posted by Kathy Meeh