Albuquerque was the site of a tear-gas filled 12-hour protest of a shooting that is eerily similar to the Errol Chang shooting. (Ian Butler)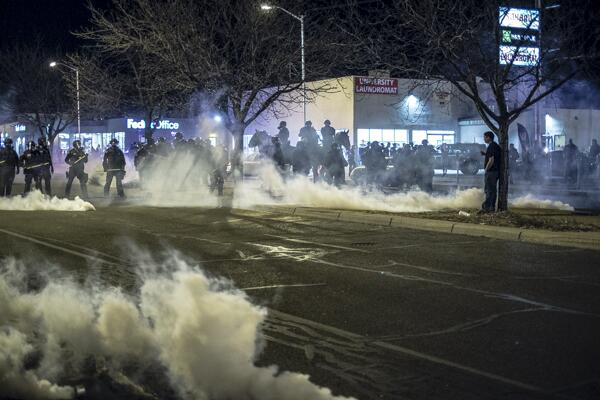 Albuquerque fired tear-gas at protesters
about 8:20 p.m., Sunday, 3/30/14 (Roberto E. Rosales)
CNN/Shawn Nottingham and Ashley Frantz, 3/31/14. "In Albuquerque, protesters clash with police."
"
Several hundred demonstrators clashed with officers in riot gear in Albuquerque, New Mexico, Sunday in a protest that raged for more than 12 hours, ending around midnight,
CNN affiliate KOAT reported
.
The protesters were enraged by what they called police brutality in the March 16 shooting of James M. Boyd.
KOAT reported that Boyd was homeless.
The U.S. Justice Department has opened a criminal investigation into the shooting, as have the FBI and the U.S. Attorney's Office for the District of New Mexico, the Justice Department said in a release.
Meanwhile, arrests were made related to the protest, KOAT said. Mayor Richard Berry told the station that an officer was spat on and hit with a rock and another officer was trapped in a patrol car. The mayor praised the police department for how it handled the protest, saying officers did an "exceptional job of de-escalating situations when we have protesters who obviously" want to "escalate the situation."
Read more,
article includes a video, 2:16 minutes.
Submitted by Ian Butler
Related
-
Huffington Post/Susan Montoya Bryan, 3/31/14,
(Associated Press and Russell Contreras contributed to this report). "Albuquerque protesters clash with police over deadly shootings." "This protest and another last week were in response to the 37 shootings Albuquerque police have been involved in since 2010, 23 of them fatal.
The outrage bubbled over recently with the release of a video showing officers fatally shooting 38-year-old James Boyd, a homeless camper, as he appeared to be preparing to surrender on March 16.
Ten days later, officers killed another man after they say he shot at them. On Friday, the FBI confirmed it had opened a criminal investigation into the Boyd shooting. And the U.S. Justice Department has been investigating the Police Department for more than a year, looking into complaints of civil rights violations and allegations of excessive use of force."
Albuquerque police
controlling the protest
Related
-
Huffington Post/Sebastian Murdock, 3/25/14.
"
Police shoot homeless man during camping arrest, (graphic video)." There are two videos: one is news, the other is the shooting/killing, 3:56 minutes.
"A homeless New Mexico man who was illegally camping in the Albuquerque foothills was fatally shot by police. New helmet camera video released by the Albuquerque Police Department on Friday shows the moment 38-year-old James Boyd turns his back to officers and then gets shot dead. Despite overwhelming criticism to the shooting,
the department says its officers were justified
, KRQE reported. Boyd was shot on Sunday, March 16. Police Chief Gorden Eden said officers approached Boyd, who was sleeping, to speak to him about illegally camping in an open space, according to the Albuquerque Journal. According to authorities, Boyd began arguing with officers for more than three hours before the fatal shooting. Graphic video released by the department shows cops yelling at Boyd to "get on the ground" moments before he's shot."
Note photographs: police on horses from Roberto E. Rosale, Huffington article above, riot gear police from by Russell Contreras/AP from Washington Post, Mark Berman, 3/31/14, "What is going on in Albuquerque? Your guide to the police shooting protest."
Posted by Kathy Meeh