"Alternative facts", a pathology-- this time not the local NIMBY spin, view.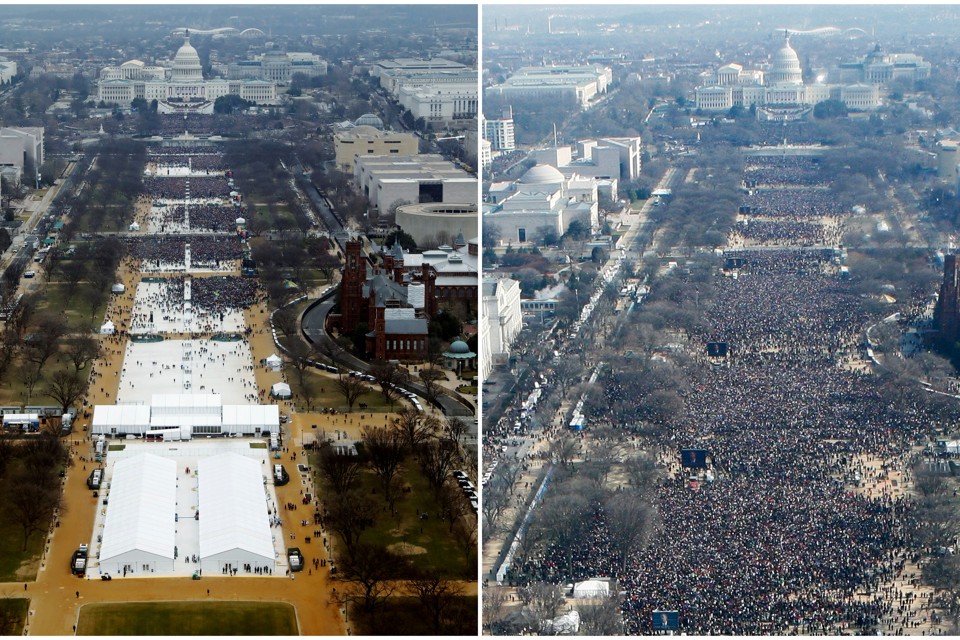 National Mall, "Largest audience ever..." (Trump)
Inauguration: Trump, 1/20/17, left; Obama 1/20/09 right.
National Mall: Women's March protest 1/21/17.
"
In an interview on NBC's "Meet the Press,"
host Chuck Todd pressed Trump senior adviser Kellyanne Conway about why the White House on Saturday had sent Spicer to the briefing podium for the first time to claim that "this was the largest audience to ever witness an inauguration, period."
"You're saying it's a falsehood. And they're giving -- Sean Spicer, our press secretary -- gave alternative facts," she said. Todd responded: "Alternative facts aren't facts, they are falsehoods."
Conway then tried to pivot to policy points. But later in the interview, Todd pressed Conway again on why the White House sent Spicer out to make false claims about crowd size, asking: "What was the motive to have this ridiculous litigation of crowd size?" "Your job is not to call things ridiculous that are said by our press secretary and our president. That's not your job," Conway said.
Todd followed up: "Can you please answer the question? Why did he do this? You have not answered it -- it's only one question."Conway said: "I'll answer it this way: Think about what you just said to your viewers. That's why we feel compelled to go out and clear the air and put alternative facts out there."
Trump himself directed Spicer to go to the White House briefing room to talk about the inauguration crowd size, Conway told CNN's Athena Jones on Sunday.
Aerial photos
-- a 2009 shot from Getty compared to 2017 shots from television broadcasts -- show former President Barack Obama's 2009 inauguration appeared to draw a much larger crowd than the one at Trump's inauguration, while Washington's mass transit ridership and Nielsen television
ratings
also show Obama's first inauguration was a larger draw. A source told CNN that Trump was enraged about photographic comparisons of the two inaugurations. Trump publicly complained about media coverage of the size of his inauguration crowd during a visit to CIA headquarters Saturday. Hours later, Spicer followed suit in the White House briefing room, then left without taking questions."
--------------------
Fixing your highway is bad for humans.
Related Inauguration controversy articles.
The Atlantic/Politics/Matt Ford, 1/21/17,
"Trump's press secretary falsely claims: 'Largest audience ever to witness an inauguration, period'." ""In his first appearance ... Press Secretary Sean Spicer delivered an indignant statement Saturday night condemning the media's coverage of the inauguration crowd size, and accusing the press of "deliberately false reporting."
BBC News/US and Canada/1/22/17,
"Trump claims media 'dishonest' over crown photos." "Mr Trump was speaking after photographs were published appearing to show more people attended the inauguration of his predecessor Barack Obama in 2009. ....
The new president repeated his low opinion of the media dubbing reporters "among the most dishonest human beings on earth
"
. Mr Spicer vowed "to hold the press accountable". .... ...
CNN said ... the press secretary had
attacked the media "for accurately reporting"
..."
Related, Women's protest march.
Washington Post/Perry Stein, Steve Hendrix and Abigail Hauslohner, 1/22/17.
"Women's marches: More than
one million protesters
vow to resist President Trump." "More than 1 million people gathered in Washington and in cities around the country and the world Saturday to mount a roaring rejoinder to the inauguration of President Trump. What started as a Facebook post by a Hawaii retiree became an unprecedented international rebuke of a new president that packed cities large and small — from London to Los Angeles, Paris to Park City, Utah, Miami to Melbourne, Australia. The organizers of the Women's March on Washington, who originally sought a permit for a gathering of 200,000, said Saturday that as many as half a million people participated. On Sunday, Metro officials announced that Saturday was
the second-busiest day
in the Washington subway system's history, with 1,001,613 trips. (By contrast, on Trump's Inauguration Day,
the system recorded 570,557 trips
.)
Reference, "alternative facts" coined phrase.
Urban dictionary, 1/22/17.
"When truth is so unfavorable to a pathological liar, that they must invent a whole new category of
lies to describe their nakedly intentional acts of deception.
Kellyanne Conway told CNN that the President and his Press Secretary presented alternative facts about inauguration photographs that prove conclusively how few people attended the ceremony." Note aerial photographs. Inaugurations by Reuters from The Atlantic and BBC articles. And for a better view, see Vox/Sarah Frostenson, 1/20/17, "Photos: the crowd at Donald Trump's inauguration vs. Barack Obama's." Protesting Trump by National Park Service EarthCam from Vox/Sarah Frostenson and Javier Zarracina, 1/21/17, "Photos: the crowd at the Women's March vs. Donald Trump's inauguration." "The Women's March on Washington has drawn huge crowds of men and women alike to Washington, DC, Saturday. How big is the crowd? Judging by aerial photos, probably bigger than yesterday's inauguration..." Frog graphic by Matt Furie from

Time/Matt Furie, 10/13/16,

"Pepe the Frog Creator: I'm reclaiming him..."