San Mateo Times/Joh Horgan (opinion), 7/29/14. "John Horgan: "Midday congestion is catalyst for Holly Street changes."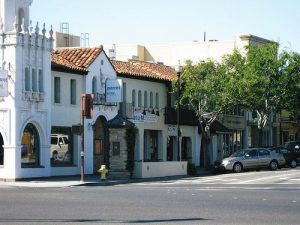 San Carlos a popular restaurant destination
causing traffic. You know how we hate traffic.
"Be careful what you wish for. San Carlos officials and residents find themselves in that position today. Their downtown business district is so popular at lunchtime Monday through Friday that parking is typically at a premium.
Blame the downtown area's outstanding dining options
and the ongoing high-tech boom for much of the problem. That combination is helping to cause traffic tie-ups and a lot of motorist frustration.
And, of course, Holly Street, which narrows to one lane in each direction, is a never-ending bottleneck. ... It doesn't help that there is a popular In-N-Out hamburger outlet just off Holly near the freeway. ....
All of this, however, is a testament to the lure of excellent restaurant choices available in that attractive village."
Read article.
Related
-
San Carlos Blog/Bob Bredel, 6/17/10,
"Is downtown San Carlos becoming restaurant Row?" .... "Start with the premise that any additional dollars being spent in San Carlos is a good thing. Out of town dollars being spent in San Carlos? Even better. Any negative issues stemming from the recent surge in activity are all secondary in nature. Parking, congestion and infrastructure are all issues which will need attention. The City of San Carlos has begun to put some preliminary plans in place as the once sleepy downtown transitions to a destination for those who live beyond the city limits. The prospective redesign of Wheeler Plaza will play a huge role in the new downtown. Wheeler Plaza is located behind the shops on the south half of San Carlos Avenue, between Laurel and Walnut. The new plaza will have retail shops and additional parking. The design will also make the plaza flow more easily to downtown."
Note photograph from the related San Carlos Blog article above.
Posted by Kathy Meeh