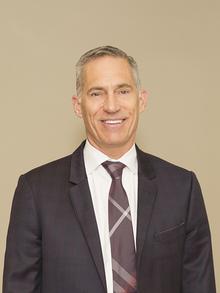 Mark Cloutier, CEO of Caminar,
"life changing mental health care".
Please join us for
a CONVERSATION WITH MARK CLOUTIER, CEO of CAMINAR
.
TOPIC: "INTERGENERATIONAL EQUITY - WHERE ARE WE"
Through their understanding of root causes and the generosity of their donors, Caminar transforms the lives of 20,000 youth and adults in the
Bay Area
each year with prevention, treatment, and recovery services.
Caminar's life changing mental health care is driven by compassion and science.
Saturday, September 21st
Sharp Park Golf Course Restaurant
The meeting will begin at
9:30 am
in the rear banquet room at the Sharp Golf Course Restaurant.
A full breakfast is available for $12, a continental breakfast at $6, or just coffee for $3, although no purchase is necessary.
If you wish to join or renew your membership in the Pacifica, Daly City Democrats, you can do so Saturday by completing a membership application available at the sign-in table. However, meetings of the Club are free and
open to the public
.
Submitted by Suzan Getchell, President, Pacifica-Daly City Democrats Club
-------------------------------------
Reference
.
Caminar/about.
"Founded in San Mateo, California, in 1964, Caminar's thriving programs and services serve more than 20,000 individuals annually across
San Mateo
,
Santa Clara
,
San Francisco
,
Solano
, and
Butte
Counties. Our nonprofit organization's portfolio of behavioral health and supportive services empowers and supports individuals and families to move toward resilience, wellness, and independence. And, we are expanding our capacity to address the increasingly complex needs of individuals and families. Since January of 2017, we have added three divisions to the Caminar organization. ...."
Facebook
,
Linkedin.
Mark Cloutier, MPP, MPH, CEO, Caminar,
Press Release, 2/7/19: "Caminar announces Mark A. Cloutier as new CEO. .... 'In addition to top caliber leadership experience, we sought a CEO who has vision for and commitment to the work of Caminar,' says
Suzan Getchell-Wallace
, President of the
Board of Directors
of Caminar. 'Mark believes strongly in the comprehensive services we offer and the importance of offering
optimal care to the communities we serve.
' ... "
Related.
Network of Care/
Information provided by San Mateo County Mental Health Services Division. "Caminar in San Mateo County works in
partnership
with the County of
San Mateo County Mental Health Department
to provide quality social rehabilitation services. Programs include Community Rehabilitation, a Medication Clinic, Residential Treatment and Vocational and Educational Services. Caminar's programs and services emphasize client choice, interdependence, community support and provide rehabilitation services that enhance each consumer's potential. All Caminar/CLC programs work cooperatively with community resources and assist clients in accessing services."
Note photograph of Mark Cloutier from Caminar and Silicon Valley Business Journal, 2/13/19.