This Special City Council meeting will be televised on local Pacific Coast Television
PCT/Pacifica Channel 26
.
PCT also links their
program calendar,
and recent coastside civic meeting
videos.
The City website will also
livestream
to this meeting.
Complying with the Coronavirus (COVID-19) Disease Notice
(fully detailed on page 1 of the City Council PDF link below):

this civic meeting will not be physically open to the public,

and will be held by through teleconferencing.
Public comments, see pages 1 and 2 of the pdf agenda below. 1) Live access is available through Zoom and dial-in: during the public comment period, press 9 to raise your hand; when called upon, provide the last 4 digits of your phone number. Or, 2) comments for the record only prior to 4 pm date of the meeting may be submitted to
publiccomment@ci.pacifica.ca.us
.
1) In the subject line be sure to specify whether oral communications or an Agenda item and the number, 2) in the text include your full na
me, 3) limit your text to no more than 350 words.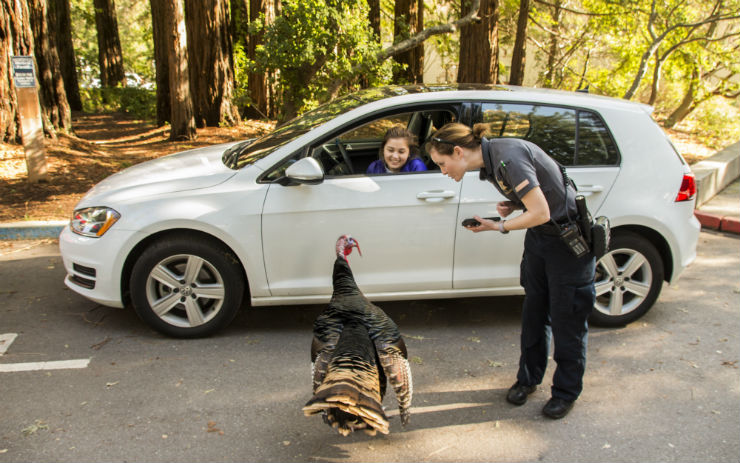 Officer, I'm lost.. will you help?
Open Session,

6:00 p.m.

Administrative: call to order, roll call, flag salute.
Full Agenda and Agenda Packet,
pdf pages 56.
Consideration
1. Policing in Pacifica,
Staff report, pdf pages 9.
Proposed action: Accept the report on Policing in Pacifica and provide further direction on the recommended short and long-term actions.
Information about Pacifica Police Department:
a) Staffing, Functions, Policies, Practices,
pdf pages 7.
b) Special Study Session, 6/17/20: Minutes, pages 1-23; Zoom attendee comments, pages 24-28,
pdf pages 24-28.
c) Use of Force Policy,
pdf pages 7.
d) Police Department Activity (graphics): Call responses, page 1; self-initiated, page 2,
pdf pages 2.
Adjourn.
--------------------
Note Officer talking to turkey photograph from
UC Santa Cruz Police Department/Parking Enforcement.
Posted by Kathy Meeh