Attend in person, 2212 Beach Boulevard, 2nd floor. Or, view on local television or live feed

Pacificcoast.TV,

(formerly pct26.com). If you miss civic meetings, view on

PCT 26 You Tube!

The planning commission meeting begins at 7 p.m

., or shortly there following. Planning

Commission updates, archives are available on the City

website

:

City Council Agendas,

and

City Planning Commission. Channel 26 television schedule, see Monday, 4/16/18.
Interactive Planning Commission agenda, 4/16/18.
Planning Commission Agenda, pdf pages 65.
Open Session, 7:00 p.m.
Administrative: Approval of order of Agenda, Approval of Draft Minutes: none.
Designation of Planning Commission liaison to City Council meeting, 5/14/18: 801 Fassler call up (Tom Clifford). Consent items, none. Communications: Public oral.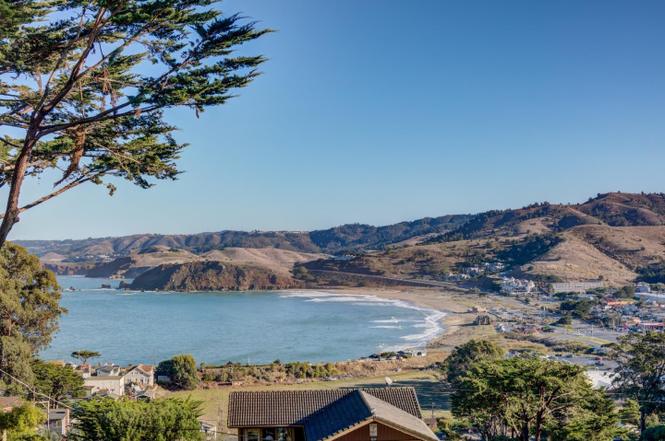 Item 1. New home construction,
Olympian Way (Pedro Point)
New
Public Hearings
1. File number 2017-029, CDP-390-17. Construction of a 2-story, 3,819 sq.ft. single-family dwelling, on a 12,498 sq. ft. lot), north side of Olympian Way, 1,200 feet west of Grand Avenue intersection, (APN 023-038-350), report. a) Land use/zoning exhibit, b) Draft Resolution and COAs. c) Project plans.
2. TA-111-18, City municipal code ordinance amendment,
adding Article 49 to Chapter 4 of Title 9: short term rental zoning to be consistent with the City General Plan and Local Coastal Land Use Plan, report. a) Resolution, b) Coastal Commission memo.
Consideration
3. Annual Planning Commission reorganization,
report. a)
Planning Commission By-Laws (amended and adopted 4/17/2017).
Communications: Planning Commission, Staff, Adjourn.
------------------------------
Reference, development/planning acronyms. APN, Assessor's parcel number. CDP, Coastal Development permit. CZ, (Coastal Zone Combining) zoning districts. DP,

development permit.

GPA, General Plan Amendment. LDR,

low density residential.

PD, Planned Development. PE,

Parking Exception.

PSD,

Site Development permit.

PV,

Permit Variance.

S, Sign permit. SE, Sign Exception. SP, Specific Plan. RIA,

Rent Increase Application.

SUB

Subdivision.

TA,

text amendment (ordinance).

UP,

Use permit.

Zoning. California Environmental Quality Act (CEQA). CA CEQA Guidelines, Article 19, Categorical Exemptions: Class 1

categorical exemption, section 15301. Freestanding single-family residences set-back and parking,

C-1,

neighborhood commercial. C-3, Service Commercial.

R1, single-family residential,

Reference.com. S, City of Pacifica Sign ordinance. CA code, accessory (second residential) dwelling units, 65852.2. Zoning/Planning Handouts, City of Pacifica.

RZ, rezoning.

TDR, transfer of development rights (urban planning).

Note photograph: 358 Olympian Way, from

Redfin.
Posted by Kathy Meeh