San Francisco Chronicle/Melody Gutierrez, staff writer, 11/20/13, "Good news, California: Surplus is $2.4 billion."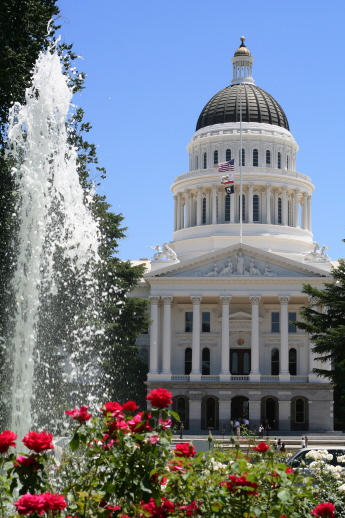 Before - California State Capital
could only afford waterfalls and flowers
You knew I could fix California
"Sacramento -- For the first time in nearly a decade, California is collecting more revenue than it is spending and will finish the fiscal year with an extra $2.4 billion, according to a report released Wednesday by the Legislature's nonpartisan budget analyst. The good news comes after an era that saw one of the worst budget crises in California history -
the fiscal shortfall sank to $60 billion in the 2009-10 budget
, the state controller mailed IOUs to vendors in 2009 and state lawmakers slashed programs year after year to make ends meet.
After - newly papered California State Capital
Now, thanks to the passage of Proposition 30 last year and the improving economy, California is looking at surpluses over the next six years - even after the temporary taxes under Prop. 30 expire, according to the Legislative Analyst's Office.
The legislative analyst projected surpluses of $2.4 billion by June 2014 and $5.6 billion by June 2015. Reserves are projected to continue growing to nearly $10 billion by June 2018.
The state this year will spend $96.2 billion in general fund services, which include public education, colleges and universities, prisons and health and human services."
Read article.
Posted by Kathy Meeh