Millbrae is another city initially formed as a "bedroom community" that struggles with its economy.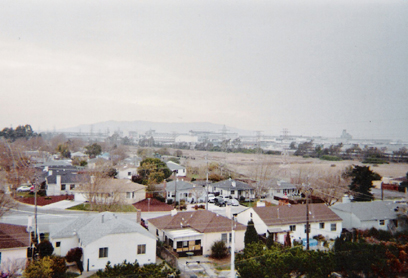 The Daily Journal 6/17/11.
"Economic changes are coming to Millbrae in the form of development
, plans for which Mayor Dan Quigg described in the annual State of the City breakfast Thursday. Renovations planned for the Clarion Hotel and Safeway will mean flat revenue in the year ahead, but hopefully a boost in years to come, said Quigg. In addition, Bay Area Rapid Transit has submitted conceptual plans around the train station that call for a hotel and relocation of the current transit center. Those large projects are examples of the changes coming to Millbrae. "We have lots of changes," Quigg said.
Housing options will be growing in Millbrae.
The mixed-use Belamor project located at 151 El Camino Real has more than half of the 142 residential units occupied.
City staff is working on a project to create a 27-unit apartment building for low-income housing.
And, currently going through the Planning Commission, are plans to
demolish the Wendy's in Millbrae, located at 120 S. El Camino Real, to build more than 50 condominiums and some ground-floor office space.
Millbrae is getting a new place to eat as well. Renovations are under way at the former site of Zack's Bar and Grill, 100 El Camino Real, with a new restaurant called Boiling Bay to open in July, said Quigg.
This area around the Millbrae Train Station has always been slated for redevelopment.
BART's plans call for a hotel at the northeast corner of the area while moving the transit center west.
Millbrae's station is expected to be the connection between high-speed rail and the San Francisco International Airport, which should bring with it an economic stimulus, said Quigg. Plans for high-speed rail include funds the city can use to update the Millbrae Station Specific Plan.
A long-term goal finally becoming a reality is adding a traffic light at El Camino Real and Victoria Avenue near the train station. Ninety percent of the $750,000 project will covered through grants. It's been a four-year goal for the city who needed to work with the state to get approval. It should be operational by October. As the state works out budget details, the fate of redevelopment agencies remains uncertain. Redevelopment funds cover about $700,000 annually in city services, said Quigg, who stressed a possible hit to the city without access to the money. Quigg also took time to emphasize the effort of volunteers in the city which help keep costs down. Grants have been secured in recent years for many of the technology and equipment upgrades to the safety services — another way the city saves money, he said. Shared services continue to be a priority particularly when it comes to emergency services. A study to create further savings in the way of police services should be finished in the coming weeks, he said. It will first be reviewed by a City Council subcommittee. The speech will air on Millbrae Community Television. For times visit www.mctv.tv."